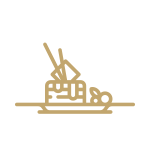 SALUMI DALL'UMBRIA
Selection of umbrian cured meats with traditional bread.
€ 14.00
Allergens: gluten, (bread)
TARTARE ETRUSCA
"Etrusco Carni" beef Tartare with chicory salad and deep fried egg yolk.
€ 12.00
UOVO AFFOGATO
Black truffle poches egg on celeriac cream and salty crumble.
€ 12.00
Allergens: lactose egg (crumble egg) gluten
FLAN N.6
Pumpkin and chanterelle mushrooms flan with olive pesto and fried leek.
€ 10.00
Allergens: mushroom lactose egg 
CHE CAVOLO
Red cabbage strudel with apples cream and sour cream.
€ 10.00
Allergens: gluten lactose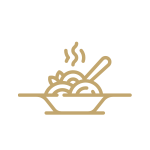 LE TIRATE A MANO
Black local truffle handmade "tagliatelle".
€ 16.00
Allergens: egg gluten lactose (tagliatelle)
IL SIGNOR ACQUERELLO
Acquerello rice cooked in celeriac with capocollo cristal and olives crumble. (min 2 person)
€ 14.00
Allergens: egg gluten lactose (ravioli)
RIDI RIDI
Handmade gnocchi with blue goat cheese and pomace 
€ 13.00
Allergens: egg gluten lactose (gnocchi)
7 RAVIOLI D'AUTUNNO
Ravioli stuffed with duck with yellow pumpkin sauce and almonds.
€ 13.00
Allergens: egg gluten lactose (ravioli) dried fruits
FARFALLE NELLO STOMACO
Handmade "farfalle" pasta with thyme flavored white rabbit ragù
€ 12.00
Allergens: egg gluten lactose (farfalle)
UMBRIA MIA
Spaghettoni pasta with stewed spring onion, dried tomatoes and crispy barbozzo bacon.
€ 12.00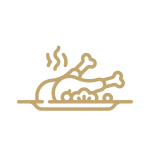 L'AGNELLO
Roasted lamb ribs with marinated shallots and colorful rainbow chard
€ 22.00
PICCIONE DELLA NONNA
Perugia style pigeon with sweet and sour red onion sauce and braised endive
€ 22.00
Allergens: lactose egg celery (piccione)
TAGLIATA ETRUSCA
Sliced veal "Etrusco carni" with radicchio and walnuts
€ 19.00
BACCALÀ A CHI?


Codfish cooked in three different ways (creemed, stewed, fried)
€ 18.00
Allergens: Celery (merluzzo)
COTTO E STRACOTTO 


Slow braised beef with mini carrots and soft potatoes purèe
€ 18.00
Allergens: Celery (merluzzo)
TRIONFO DEL PORCO


Piglet cooked at low temperature with purple potatoes and cherries jam
€ 16.00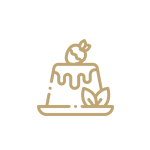 DOLCE E SALATO


Vanilla bavarese with heart of chestnuts and salted caramel
€ 8.00
Allergens: lactose, gluten, egg
UN MORBIDO ABBRACCIO


Soft dessert of hazel nuts with panna cotta and coffee mousse
€ 8.00
Allergens: nuts, lactose, gluten, eggs (soft)
GELATO E PESCHE


Peach soup with pan brioche and ice cream
€ 7.00
Allergens: nuts, lactose, gluten, eggs (pan brioche, ice-cream)
TOZZI MA BUONI


Traditional homemade almond "Tozzetti" biscuits and sweet wine  
€ 7.00
Allergens: lactose, gluten, eggs, almonds (biscuits)
TIRAMESÙ


Traditional tiramisù
€ 7.00
Allergens: lactose, gluten, eggs (tiramisù)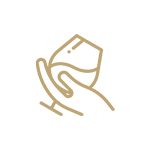 Glass of white wine or prosecco
€ 4.00
Still or sparkling water
€ 2.50
Nepi Natural Effervescent Water
€ 3.00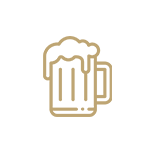 ZOE KELLER PILS 33cl


5,2%Vol. A beer of the Keller Pils type, it appears veiled by a pale yellow color and has a fine compact white head.
Herbaceous notes open the scent, followed by sensations of grains and honey. Delicate scents of cereals and honey create the taste which then gives way to a delicate but persistent bitterness.
€ 5.00
FIJI DOUBLE DRY HOPPED PALE ALE 33cl


5,5Vol. Beer with orange color and a fine and persistent white foam. The scent is with intense note of exotic fruit, where pineapple, mango and passion fruit predominate. The taste is soft with fruity sensations and subsequently a strong but never intrusive bitterness. A Pale Ale created in a modern way.
€ 5.50
TUKA NEW ENGLAND IPA 33cl


6,2% vol. New England Ipa style beer characterized by the use of  Vemont yeast wich gives a soft body and fruity aromas. The powerful dry hops of Sabro, Mosaic and Simcoe give tropical notes of pineapple and passion fruit with hints of coconut, peach and vanilla. At sight is veiled with orange color and a fine and white foam. At the mouth it is velvety and silky with a body that hides and balances the generous use of the hops.
€ 6.00

PROSECCO SOPRALERIGHE BRUT (SERENA)


(Glera) 12,5° Make with Charmat metod color yellow with greenish reflections, fine perlage and fruity taste
€ 14.00
VALDO PRADASE

VALDOBBIADENE DOCG BRUT METODO CLASSICO (VALDO)


(Glera) 12,5° Straw yellow color with green reflections, intense perlage. Fruity tast and full body wine.
€ 25.00
FRANCIACORTA EXTRA BRUT DOCG (LA MONTINA)


(Chardonnay-Pinot Nero) 12° Soft yellow color with green reflections, fine and intense perlage, Fruity aromas of cytrus and fresh fruit. Dry, fresh and mineral taste.
€ 25.00
PIANCASTELLO

TRENTO DOC (ENDRIZZI)


(Chardonnay-Pinot Nero) 13° Straw yellow, fine and persistent perlage. Intense aromas of bread and vanilla. Dry and elegant taste.
€ 28.00
CA' DE SAS SPUMANTE METODO CLASSICO (PUCCIARELLA)


(Chardonnay) 13° The colour is light straw-yellow. The perlage is fine and long lasting. The scent is fragrant and fruity. The taste is fresh, round, of good structure and intensity.
€ 18.00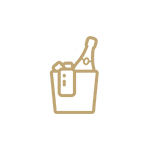 CHAMPAGNE BRUT RESERVE (NICOLAS FEULLATTE)


(Pinot Nero-Chardonnay-Pinot Meunier) 12,5°  Straw yellow, fine and intense perlage. Aromas of fresh fruit and mineral. Armonic and balanced body.
€ 65.00
CHAMPAGNE BRUT RESERVE EXCLUSUVE ROSE' (

NICOLAS FEULLATTE

)


(Pinot Nero-Pinot meunier-Chardonnay) 12° Intense cherry pink color, characterized by a lasting and luminous perlage. Raspberries, strawberries, cherries and blueberries open the entrance to the nose, then rich in tertiary complexities that recall ginger, star anise, almonds and ripe lemon. The sip is well balanced between fruit and freshness, crunchy on one side, then smooth in the finish. Long persistence.
€ 70.00
CHAMPAGNE THÉOPHILE BRUT PREMIERE (ROEDERER)


(Pinot Nero-Chardonnay-Pinot Meunier) 12,5° Straw yellow, fine and intense perlage. Aromas of fresh fruit cytrus and bread. Armonic fresh and persistent body.
€ 70.00
LANGHE ARNEIS DOC 2018 (TENUTA IL FALCHETTO)


(Arneis) 13° Straw yellow with green reflections. Fruity aromas with mineral hints. Fresh and intense taste.
€ 14.00
KIES GEWURTZTRAMINER DOC 2019 (ROENO)


(Gewurtztraminer) 13° Deep straw yellow. Very intense and aromatic, fruity, floral and vegetal. Well balanced wine, long aromatic persistence.
€ 14.00
SOFI MULLER THURGAU IGT 2019 (FRANZ HAAS)


(Muller Thurgau) 12°  Straw yellow, very fruity and floral, fresh tasting and good aromatic aromas.
€ 15.00
GEWURTZTRAMINER "MONT MES" 2019 (CASTELFEDER)


(Gewurtztraminer) 13,5° Straw yellow color. Aromas of litchi, rose and tropical fruits. Good body and rich in acidity.
€ 19.00
PINOT BIANCO ALTO ADIGE DOC 2018 (VON BLUMEN)


(Pinot Bianco) 13° The color is yellow with shades of different shades. Delicate hints of apple and white peach, wild flowers and mint. Intense flavor with notes of white fruit pulp.
€ 20.00
RIBOLLA GIALLA IGP 2019 (PUIATTI)


(Ribolla Gialla) 12,5° Deep straw yellow color. Fruity taste with scents of cytrus. Full body, balanced and good acidity.
€ 22.00
SAUVIGNON IGP 2019 (PUIATTI)


(Sauvignon) 12,5° Straw yellow color. Fruity and vegetable aromas. Fresh savory and persistent taste.
€ 22.00
FRIULANO DOC 2020 (PUIATTI)


(Friulano) 12,5° straw yellow color, with greenish reflections. The wine has an important bouquet with hints of aromatic herbs, enriched with pleasant fruity and floral notes. On the palate it is fresh and elegant, with a balanced mineral background. The wine has a full-bodied structure, with a finish of excellent persistence.
€ 22.00
MONTE FIORENTINE

SOAVE CLASSICO DOC 2018 (CÀ RUGATE)


(Garganega) 12,5° Strong straw yellow color. Aromas of exotic fruits and cytrus. Armonic and persistent taste.
€ 16.00
LITORALE

VERMENTINO MAREMMA TOSCANA DOC 2018 (VAL DELLE ROSE)


(Vermentino) 13° Straw yellow color with golden reflections. Fruity and intense aromas. Aromatic,fresh and persistent taste.
€ 18.00
POGGIO AI GINEPRI BIANCO IGT 2018 (ARGENTIERA)


(Vermentino-Sauvignon Blanc) 13° Intens straw yellow. Fruity and floral aromas. Balanced taste with good sapidity.
€ 18.00
AMARELA

PASSERINA IGT 2019 (GAROFOLI)


(Passerina) 12° Straw yellow, fruity aromas. Balanced taste, soft with good acidity.
€ 16.00
PODIUM CASTELLI DI JESI VERDICCHIO CLASSICO SUPERIORE DOC 2017 (GAROFOLI)


(Verdicchio) 14° Straw yellow color. Fruity aromas with scents of cytrus. Full body, savory and elegant.
€ 22.00
SUPERA VERDICCHIO DI MATELICA 2020 (GAROFOLI)


(Verdicchio) 13° Straw yellow color with greenish reflections. Intense and varied bouquet, with notes of white fruit, such as grapefruit and apple, and floral aromas. Fresh and savory, elegant and juicy, dynamic and with a pleasant fruity finish.
€ 18.00
AGNOLO DOC 2018 (PUCCIARELLA)


(Chardonnay-Sauvignon-Pinot Bianco-Grechetto) 13° Yellow straw color with greenish reflections, fruity, floral and fine hints. Fresh, armonius and soft taste.
€ 12.00
GRECHETTO COLLI MARTANI DOC 2019 (ANTONELLI)


(Grechetto, Biologico) 13,5° Straw yellow color. Fresh taste with floral aand fruity aromas. Hints of cytrus. Full body with good acidity.
€ 15.00
POGGIO CANNETO IGT 2018 (CARINI)


(Chardonnay-Pinot Bianco) 14° Straw yellow strong,fruity and floral taste. Dry harmonic and fine body.
€ 18.00
TREBBIANO SPOLETINO DOC 2019 (LE CIMATE)


(Trebbiano Spoletino) 13,5° Straw yellow colored with golden reflections, aromas of fresh fruit and floral. Balanced body and long lasting.
€ 18.00
FIORFIORE IGT 2018 (ROCCAFIORE)


(Grechetto di Todi) 13° Straw yellow color with golden reflections. Fruity aromas of apple and pineapple. Good body and mineral.
€ 19.00
IL REMINORE IGP 2018 (MADREVITE)


(Trebbiano) 13,5° Straw yellow color with scents green and gold. Mineral and fruity taste.
€ 19.00
ADARMANDO IGT 2017 (TABARRINI)


(Trebbiano spoletino) 15,5° Intense straw yellow color. Fruity aromas with mineral scent. Full body wine with good acidity.
€ 22.00
VIOGNIER IGT 2018 (LA CARRAIA)


(Viognier) 13,5° Straw yellow with green reflections. Fruity aromas with mineral notes. Full body, fresh and elegant.
€ 17.00
ORVIETO DOC TRAGUGNANO 2019 (MOTTURA)


(Grechetto-Procanico-Sauvignon) 13,5° The colour is straw yellow with golden hues. Scent delicate and compact, of fresh fruit, white flowers and peach, with mineral notes. Taste smooth and consistent, fresh and mineral.
€ 22.00
STRATUS 2018 (TENUTA DEI MORI)


(Grechetto-Verdicchio-Vermentino-Trebbiano) 13° Pale yellow, limpid and transparent, with slight greenish reflections.
The nose reveals fine hints of ripe yellow plum and sweet white peach accompanied by light mineral and mint notes.
The sip, endowed with ample freshness, is characterized by a pleasant and present sapidity that outlines the flowing and balanced stroke, ending with great elegance on the fruit.
€ 16.00
YAMADA 

PECORINO DOC 2019 (ZACCAGNINI)


(Pecorino) 13° Gold color with green reflections. Aromas of cytrus. Aromatic and persistent taste.
€ 16.00
TALÒ VERDECA IGP 2018 (SAN MARZANO)


(Verdeca del Salento) 12,5° Straw yellow with golden reflections. Floral aromas with notes of vanilla. Fresh and mineral taste.long persistence and sapidity.
€ 22.00
CHARDONNAY DEL SALENTO IGP TERESA MANARA 2019 (CANTELE)


(Chardonnay) 13,5° Characterized by an intense straw-yellow color crossed tone on tone by green and golden nuances. Presents an initially spicy scent that opens like a fan, providing an olfactory range overflowing with floral and fruity smells.
€ 14.00
GRECO DI TUFO DOCG 2018 (DI MEO)


(Greco) 12,5° Straw yellow with green reflections. Fruity and floral aromas. Balanced and armonic taste with good acidity.
€ 16.00
FALANGHINA SANNIO IGT 2018 (DI MEO)


(Falanghina) 12,5° Intense straw yellow color. Intense aromas of flowers and fruits. Full body rich in savory and persistent taste.
€ 18.00
CARIZZA INSOLIA DOC 2019 (PRINCIPI DI BUTERA)


(Insolia) 12,5° Straw yellow color. Intense fruity aromas. Complex, armonic and savory taste.
€ 16.00
DIAMANTI GRILLO DOC 2019 (PRINCIPI DI BUTERA)


(Grillo) 12,5° Straw yellow with golden reflections. Intense aromas of flowers and exotic fruit. Rich and armonic taste.
€ 16.00
MARI DI RIPIDDU ETNA BIANCO DOC 2020 (FILIPPO GRASSO)


(Carricante-Catarratto) 12,5° Pale straw yellow color with greenish reflections. Delicate and elegant bouquet, with hints of broom and hawthorn; in the final green apple and yellow fruit. Fresh and very mineral flavor, pleasantly acidulous.
€ 21.00
GIUNCO VERMENTINO DI SARDEGNA DOC 2019 (MESA)


(Vermentino) 13,5° Straw yellow color. Intense fruity aromas. Full body and good acidity.
€ 16.00
LA BISBETICA IGP 2019 (MADREVITE)


(Gamay) 12,5° Brilliant cherry color. Fruity and floral aromas. Fresh, intense and savory taste.
€ 16.00
POGGIO AI GINEPRI ROSE' DOC 2018 (ARGENTIERA)


(Cabernet Sauvignon – Syrah) 12,5° Brillant pink color. Fruity aromas of cherry and cramberrye. Balanced and savory wine
€ 18.00
VILOT

DOLCETTO D'ALBA DOC 2017 (CÀ VIOLA)


(Dolcetto) 13,5° Full red ruby color. Aromas of fresh fruits with a nice scent of black berry. Tasting is balanced with strong acidity.
€ 19.00
BRICHET 

BARBERA D'ALBA DOC 2016 (CÀ VIOLA)


(Barbera) 14,5° Deep red ruby. Aromas of red fruit and sweet spices. Full body,tannins little strong and good acidity.
€ 23.00
BARBARESCO DOCG 2015 (CERETTO)


(Nebbiolo) 14° Red ruby color with garnet reflections. Fruity and floral aromas with scents of cacao and tobacco. Full body with soft tannins.
€ 55.00
BONARDA VIVACE OLTREPÒ PAVESE DOC 2019 (TENUTA IL BOSCO)


(Bonarda) 12° Intense red ruby with violet reflections. Intense aromas of violet, bitter almond. Dry and little sparkling taste.
€ 15.00
MONT MES IGT 2017 (CASTELFEDER)


(Pinot Nero) 13° Red ruby color with garnet hues, aromas of berries and cherry, scents of vanilla, balanced and full body.
€ 18.00
TEROLDEGO ROTALIANO DOC 2017 (ENDRIZZI)


(Teroldego) 12,5° Intense red ruby color. Fruity aromas. Soft, enveloping and persistent taste.
€ 18.00
LAGREIN DOC 2018 (FRANZ HAAS)


(Lagrain) 13° Intense red ruby color. Fruity aromas with notes of floral and herbal. Full body with soft tannins and long persistence.
€ 24.00
GLENER

PINOT NERO

ALTO ADIGE DOC 2017 (CASTELFEDER)


(Pinot Nero) 13° Red ruby color with garnet reflections. Soft fruity aromas with notes of vanilla from the barriques. Full body and balanced.
€ 30.00
SARIZ

VENEZIA GIULIA IGT 2016 (CÀ RONESCA)


(Pinot Nero-Refosco-Merlot-Cabernet Sauvignon) 13.5° Red purple color with garnet reflections. Aromas of cherry, spices and wild berries. Full body with soft tannins.
€ 18.00
CABERNET IGT 2018 (DI LENARDO)


(Cabernet Sauvignon-Cabernet Franc) 12,5° Red ruby color. Fruity and floral aromas with vegetal aromas. Full taste,medium body and good acidity.
€ 18.00
VALPOLICELLA CLASSICO DOC 2018 (NICOLIS)


(Corvina-Rondinella-Molinara) 12,5° Red ruby color. aromas of wild berries, plums; dry tasting, full body and caracteristic aromas of ginger.
€ 14.00
SECCO BERTANI VINTAGE EDITION IGT 2015 (BERTANI)


(Corvina-Merlot) 13,5° Red ruby color with violet reflections, aromas of cherry, dark chocolate, dry fruit and aromatic herbs; balanced body, soft tannins and good acidity.
€ 17.00
VALPOLICELLA RIPASSO DOC 2018 (BERTANI)


(Corvina Veronese-Rondinella-Merlot) 13,5° Ruby-red color with violet hues. The nose is very intense notes of dark fruit, as the blackberry, black currant and ripe cherry. Immediately hits the sweet scent, clean and intense a ripe red fruit at the right point. Sweet in the mouth, full and round, soft while still nerve lively and intense, with a tangy aftertaste, long.
€ 22.00
PRIMOSEGNO 

SANGIOVESE DI ROMAGNA SUP. DOC 2016 (VILLA VENTI)


(Sangiovese) 13,5° Biologic Red ruby. Fruity aromas with mineral notes. Full body, sapid, fresh and long persistence.
€ 19.00
LE CICALE DI VINCIGLIATA

CHIANTI DOCG 2019

(BIBI GRAETZ)


(Sangiovese) 12,5° Red ruby color with violet reflections, aromas of wild berries and floral, soft tannins and full body.
€ 17.00
SMERIGLIO 

MERLOT CORTONA DOC 2015 (BARACCHI)


(Merlot) 14,5° Intense red ruby color. Intense fruity aromas with spices notes. Full body with soft tannins.
€ 19.00
CHIANTI CLASSICO DOCG 2017 (CASTELLO DI LILLIANO)


(Sangiovese-Colorino-Merlot) 14,5° Red ruby color. Fruity and floral aromas with spices notes. Enveloping taste with soft tannins and long persistence.
€ 19.00
IL CILIEGIOLO DOC 2016 (VAL DELLE ROSE)


(Ciliegiolo) 14° Red ruby color with violet reflections. Intense aromas of prune and cherry with mineral notes. Full body with strong tannins balanced with alcool.
€ 22.00
SOFFOCONE DI VINCIGLIATA IGT 2017 (BIBI GRAETS)


(Sangiovese-Colorino) 13,5° Deep red ruby color. Taste of wild berries, Armonic and complex body with balanced tannins.
€ 28.00
VIGNA DEL LAGO 

BRUNELLO DI MONTALCINO DOCG 2013 (VAL DI SUGA)


(Sangiovese Grosso) 14,5° Garnet color with ruby reflections. Aromas of cherry, wild berries and flowers. Full body, persistent and elegant tannins.
€ 70.00
ROSSO CONERO DOC 2017 (PIANCARDARA GAROFOLI)


(Montepulciano) 14,5° Intense red ruby color. Fruity aromas. Soft and structured taste. Elegant tannins.
€ 18.00
Sagrantino di Montefalco DOCG
SAGRANTINO DI MONTEFALCO DOCG 2017 (MORETTI OMERO)


(Biologico) (Sagrantino) 14,5° Intense ruby red color. Aromas of ripe red fruit, wild berryes and vegetal hints. Strong and fine body with long persistence.
€ 28.00
SAGRANTINO DI MONTEFALCO DOCG 2014 (SCACCIADIAVOLI)


(Sagrantino) 14,5° Red ruby with garnet hues, Aromas elegant and intense of wild berryes and balsamic hints. Persistent tannin and balanced body.
€ 32.00
SAGRANTINO DI MONTEFALCO DOCG 2015 (ANTONELLI)


(Sagrantino) 14,5° Intense red ruby color, Aromas of fruit, fine erbs and wild berryes, Full body with persistent tannin.
€ 35.00
RIPA ROSSO DOC 2017 (BRIZIARELLI)


(Sagrantino-Sangiovese-Merlot) 14° Red ruby color. Intense aromas of wild berries, red flowers. Medium Body with fresh acidity and soft tannin.
€ 14.00
ROSSO DI MONTEFALCO DOC 2015 (ADANTI)


(Sangiovese-Sagrantino-Barbera-Merlot-Cabernet Sauvignon) 14,5° Intense red ruby color with garnet reflections. Intense aromas of wild berries, spices and black pepper. Soft and fresh Taste with soft tannins.
€ 16.00
ROSSO DI MONTEFALCO DOC 2017 (SCACCIADIAVOLI)


(Sagrantino-Sangiovese-Merlot) 14° Intense red ruby color. Expansive and elegant bouquet and a soft and voluptuous taste.
€ 16.00
ROSSO DI MONTEFALCO DOC 2015 (ANTONELLI)


(Sangiovese-Sagrantino-Montepulciano) 14,5° Red ruby color. Intense and fruity aroma. Dry taste balanced and good structure.
€ 18.00
ROSSO DI MONTEFALCO BIOLOGICO DOC 2018 (MORETTI OMERO)


(Sangiovese-Sagrantino-altre uve) 14° Ruby red, sweet spices and ripe red fruit. Full and warm, full-bodied and balanced, with a very long persistence. Organic wine.
€ 18.00
ROSSO DI MONTEFALCO DOC 2019 (LA CARRAIA)


(Sangiovese-Merlot-Sagrantino) 13,5° Intense red ruby color. Expansive and elegant bouquet and a soft and voluptuous taste.
€ 18.00
Colli Perugini – Colli del Trasimeno – Orvieto
BAPTA MERLOT UMBRIA IGP 2016 (VILLA SOBRANO)


Bapta (Merlot) 14° Violaceous color. Intense aromas of spices and fruity notes. Medium body with moderate acidity and delicate tannins.
€ 15.00
OSCANO COLLI DEL TRASIMENO DOC 2019 (CARINI)


Oscano (Sangiovese – Gamay) 14° Deep red ruby. Ample aroma rich in red fruit and spicy notes. Dry, harmonious, full and elegant flavor.
€ 16.00
CHE SYRAH SARÀ IGP 2013 (MADREVITE)


(Syrah) 15° Red ruby color with violet reflections, spices and wild berries aromas, fine tasting and soft tannins. 
€ 27.00
C'OSA COLLI DEL TRASIMENO DOC 2017 (MADREVITE)


C'Osa (Gamay) 15° Red ruby color, fruity and floral aromas, good body and balanced.
€ 39.00
LIBRATO ROSSO ORVIETATO DOC 2018 (ALTAROCCA)


(Cabernet  franc-Canaiolo) 13,5° Ruby red with violet reflections. The nose is intense and rich in notes of red fruit and vegetable scents. In the mouth it is full and balanced, with elegant notes of fruit and non-invasive tannins.
€ 16.00
CUMULUS UMBRIA ROSSO IGP 2018 (TENUTA DEI MORI)


(Sangiovese-Alicante-Refosco) 13° Ruby red color. Complex aroma with notes of undergrowth. Produced from grapes in organic conversion from indigenous and non-native vines. Fruit of the Umbrian territory freely interpreted in a modern key.
€ 18.00
IL ROCCAFIORE SANGIOVESE IGT 2017 (ROCCAFIORE)


(Sangiovese) 13,5°Ruby red, on the nose it expresses all the elegance, the fabric, the depth of the great Sangiovese. Notes of ripe plum are flanked by small red fruits, tobacco, licorice in a context of great complexity. In the mouth it is dry, characterized by a beautiful structure, by an extreme class and cleanliness, by elegant tannins and by a finish of great persistence, austere and very clean.
€ 22.00
VILLA TIRRENA LAZIO ROSSO IGP 2014 (D'AMICO)


Villa Tirrena (Merlot-Syrah) 13,5° Red ruby color. Fruity aromas with notes of vanilla and tobacco from the barrique. Full body with soft tannins, long persistance and good acidity.
€ 22.00
PIETRAFITTA TINTILIA DEL MOLISE DOC 2015 (CIANFAGNA)


Pietrafitta (Tintilia) 14,5° Intense red ruby color. Intense aromas of wild berries with notes of plum. Full body, rich in tannins and alcol.
€ 34.00
AGLIANICO IGT 2014 (DI MEO)


(Aglianico) 13,5° Brillant red ruby color. Intense fruity aromas with herbal notes. Full body with soft tannins and good savory.
€ 20.00
PRIMITIVO DEL SALENTO IGT 2017 (A MANO)


(Primitivo) 14,5° Deep ruby red. Aromas of wild berryes with notes of aromatic herbs. Structured wine and soft tannins.
€ 14.00
SALICE SALENTINO RISERVA DOC 2015 (CANTELE)


(Negroamaro) 13° Intense red ruby color with garnet reflections. Fruity aromas. Full body balanced and soft tannins.
€ 14.00
NEGROAMARO DEL SALENTO IGT 2015 (MASSERIA ALTEMURA)


(Negroamaro) 13° Intense red ruby color. Fruity aromas with scents of coffee, liquirice and spices. Savory wine,balanced and intense.
€ 16.00
RIPIDDU

ETNA ROSSO DOC 2016 (FILIPPO GRASSO)


(Nerello Mascalese-Nerello Cappuccio) 14° Ruby red with garnet reflections. Spicy taste with toasted hints. Full body, dry, and nicely tannic.
€ 18.00
DEAETNA

ETNA ROSSO DOC 2016 (TERRA COSTANTINO)


(Nerello Mascalese-Nerello Cappuccio) 13,5° Red ruby color with garnet reflections. Aromas of violet, ripe red fruit, liquirice, cinnamom and black pepper. Intense body, elegant and mineral aftertaste.
€ 22.00
CARIGNANO DEL SULCIS DOC 2018 (MESA)


(Carignano) 13,5° Intense red ruby color. Fruity aromas with notes of spices and balsamic. Persistent tannins and full body.
€ 16.00
CANNONAU DI SARDEGNA DOC 2017 (MESA)


(Cannonau) 14,5° Ruby red color. Floral and fruity taste. Warm, dry and harmonic structure.
€ 18.00
MONICA DI SARDEGNA DOC 2018 (AUDARYA)


(Monica di Sardegna) 14° Red ruby color with violet reflections. Intense aromatic bouquet with soft vegetal hints. Fresh taste, soft and good balanced.
€ 19.00
PLASIR (MOSCATO BIANCO) – ZACCAGNINI


Prezzo al calice
€ 4.50
ZIBIBBO – INTORCIA


Prezzo al calice
€ 4.00
VIN SANTO – PUCCIARELLA


Prezzo al calice
€ 4.00
LA PERLARA RECIOTO DI SOAVE – CA' RUGATE


Prezzo al calice
€ 4.00
SAGRANTINO PASSITO – MORETTI OMERO


Prezzo al calice
€ 5.00
Selection of tea and herbal teas
TÈ VERDE GUNPOWDER


Cina
€ 2.00
TÈ ROSSO ROOIBOS


Africa
€ 2.00
Tisana al Finocchio
€ 2.00
Rum Nicaragua 12 anni
€ 8.00
Rum agricolo Guadalupe XO J. Trefois
€ 10.00
Cognac – Calvados – Armagnac
Calvados Pays D'Auge 5 anni
€ 5.00
Calvados Pays D'Auge 10 anni
€ 6.00
Cognac Napoleon 15 anni
€ 8.00
Bas – Armagnac Chateau Ravignan 2006
€ 10.00
Gold Mine Barrel Gin
€ 12.00
James Eadie Single Malt Scotch Whisky 9 anni
€ 9.00
James Eadie Single Malt Scotch Whisky 11 anni
€ 12.00
Fuoriclasse Leon Gran Morbida – Castagner
€ 6.00
Fuoriclasse Leon Amarone – Castagner
€ 7.00
Torba Nera 7 anni – Castagner
€ 8.00
Amaro Leon (liquore a base di 45 erbe aromatiche e spezie)
€ 4.00
Informativa
Scarica informativa su allergeni